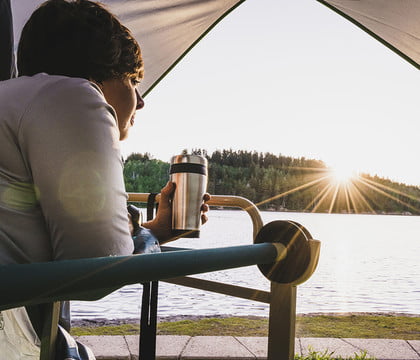 By Rachel Cavanaugh
Sleeping in the woods is dreamy but if you don't have the right gear, it can also be hard to get a good night's rest. Sleeping padsmay be great for some occasions but generally speaking, they keep you close to the ground and soak up heaps of precious heat which denies you the ability to cool off. To top it off, they're often in close contact with bugs or dirt while providing minimal protection from sharp, pointy rocks that always seem to find the perfect way to dig into your back.
This is exactly whya proper sleeping cot can be a windfall while roughing it, thanks to its ability to elevate you off the ground, keeping the air circulating underneath you and dramatically cooling you off. Conversely, if you're winter camping— or even in the desert on a chilly summer night — sleeping above ground helps keep you significantly warmer. Since you're not making contact with the cold ground, you retain body heat much better and, as a bonus, the best camping cots even offer extra storage in your camping tent as gear can be stored beneath them.
Things to consider
When shopping for a sleeping cot, there are several things to keep in mind. First is weight: Do you plan on carrying your sleeping gear long distances? If so, you'll want a lightweight option that's not only easy to pack but compact enough that it doesn't take up valuable space in your car. Additionally, purchasing a cot that's easy to assemble and take down is important and improves anyone's overall camping experience.
The next is comfort — even with a sleeping pad below you, stiff padding or rough fabric doesn't always equal quality sleep. The more comfortable your sleep system, the better your night's rest. Plain and simple. Finally, don't forget to factor in how small or big you are. You want to make sure the cot fits your body type properly and that your legs aren't hanging off the end. To help, we've gathered a list of the best camping cots designed to make roughing it a little less rough.

helps readers keep tabs on the fast-paced world of tech with all the latest news, fun product reviews, insightful editorials, and one-of-a-kind sneak peeks.