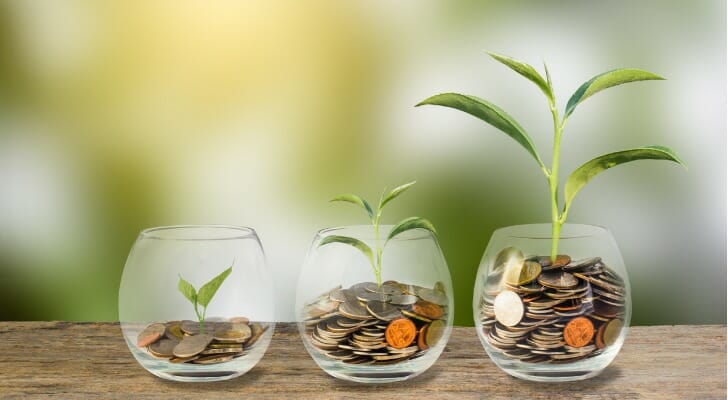 Certificates of deposit, or CDs, offer a reliable and structured approach to savings. A CD has a set term length, and once you make your initial deposit, you can't touch that money until the term ends. This allows your money to grow undisturbed, and you usually get a higher rate in exchange for the decreased liquidity. But when shopping around for a CD, how do you know what rates to look for?
Current CD Rates
According to the FDIC, the national average rate for a 12-month CD was 0.59% as of December 2018. Rates tend to go higher as the term increases, as banks are willing to pay out more interest in exchange for getting to keep your money for longer. The average 24-month CD, for instance, pays 0.79% interest; the national average for a 48-month CD was at 1.03% at the end of 2018.
Don't think those rates are high enough to justify tying up your money? The good news is that some banks do offer rates well above the national average. As is the case with most interest-earning deposit accounts, you'll typically find the best CD rates with an online bank. Without the expenses of maintaining branches, online banks can pass those savings to their customers through high-yield savings accounts, as well as money market accounts and CDs. Here are a few of the rates you can get at online banks:
Online Bank CD Rates Bank Minimum 6-Month CD 5-Year CD Ally Bank $o 1.00% 3.10% Barclays $0 0.65% 3.10% Capital One $0 0.60% 3.10% Citizens Access $5,000 2.20% 3.15% Marcus $500 0.60% 3.10% Synchrony $2,000 1.00% 3.10%
If you want to open a CD with a big bank for better access to branches, just know you won't get much return. Certain banks may offer opportunities for rate boosts, however. Usually you can boost your rate in exchange for opening another deposit account with the same bank, or by simply having a higher balance in your CD.
Big Bank CD Rates Bank Minimum 6-Month CD 5-Year CD Bank of America $1,000 0.03% 1.00% Chase $1,000 0.01% 0.70% PNC Bank $1,000 0.06% 0.60% U.S. Bank $500 0.05% 0.75% Wells Fargo $2,500 0.45% 2.75% (58-month Special)
Historical CD Rates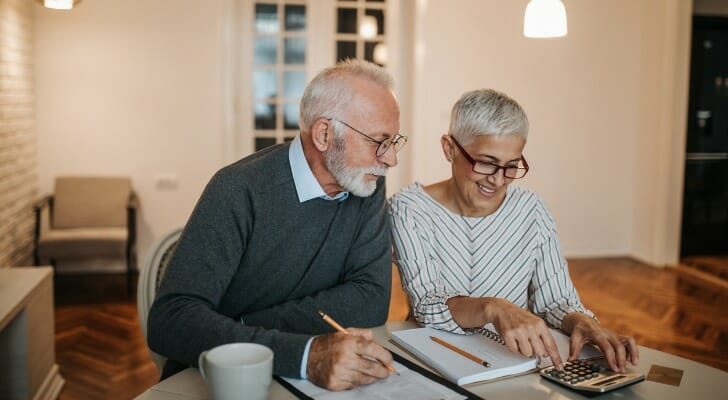 It might be hard to imagine now, with the highest CD rates barely reaching past 3.00%, but in the late-70s and early-80s, CD rates reached double digits. The highest six-month CD rate since 1964 clocked in at a whopping 17.98% in August of 1981, according to Forecast-Chart.com. However, the last time CD rates reached double digits was October of 1984, when the six-month CD had a 10.63% APY. People even relied on CDs' high rates to save for retirement and other substantial financial goals.
Rates have been generally decreasing since then. The average six-month CD rate hasn't surpassed 1.00% since 2009.
CD Withdrawal Penalties
Don't forget that while your CD earns interest over its term, you'll need to leave it in for the duration of the term. If you need to withdraw money before the end of the term, you'll pay a penalty. Your exact penalty can depend on the term length of the CD you withdraw from. Typically, it will cost you a substantial portion of the interest you earned on your withdrawal amount. You can expect to give up a few months worth of interest anywhere from three to 24 months, and even more if you have a CD term lasting many years.
If you predict you'll need to access your money sooner rather than later, consider opening a shorter-term CD. You may not snag the highest interest rates, but at least you won't get caught paying big penalties. You might also consider starting a CD ladder. This is when you open multiple CDs with staggered maturity dates, so that you're never more than a few months from a CD maturing. You can get all of the interest-rate benefits of a long-term CD, but with more liquidity.
Another option is to get a no-penalty CD. These kinds of CDs allow you to make withdrawals after a short period of time, at no penalty. Some examples are Ally Bank's 11-month No Penalty CD and Marcus's three No-Penalty CDs.
If you want to avoid locking up your money at all, you might want to simply avoid CDs altogether and open a savings or money market account instead.
Bottom Line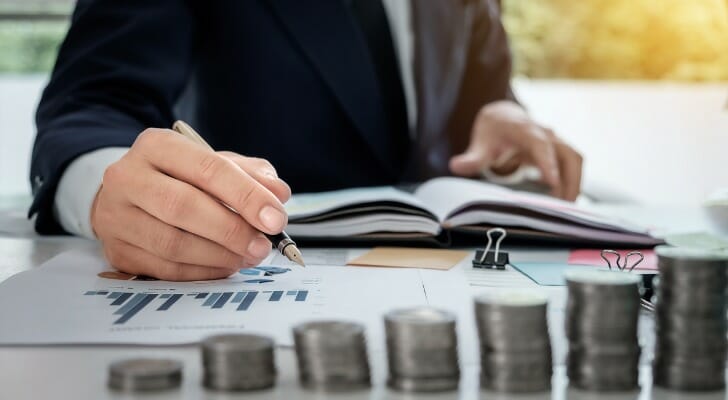 If you're stashing away money for savings, why not stash it in an account that earns you some real interest? When it comes to CDs, this can often mean locking up your money for years at a time. But if you choose the right bank, even short-term CDs of a few months can yield some good returns.
Tips on Saving More Money
Getting a 3% return on a deposit account is nice, but it's not enough to really grow you retirement savings. For that, your best bet is to open a tax advantaged retirement account (like a 401(k) or IRA) and invest in the market.
Whether you're building a CD ladder or a full-blown financial plan, a financial advisor can be a huge help. Finding the right advisor is a quick quiz away: Just head to SmartAdvisor Match and answer a few questions about your financial situation, and we'll connect you with up to three of the best advisors in your area.
Photo credit: iStock.com/Indysystem, iStock.com/bernardbodo, iStock.com/Jirapong Manustrong
The post What Is the Average CD Rate? appeared first on SmartAsset Blog.
Information contained on this page is provided by an independent third-party content provider. Frankly and this Site make no warranties or representations in connection therewith. If you are affiliated with this page and would like it removed please contact pressreleases@franklyinc.com